Oh don't mind me. I'm just polishing my sunnies and packing my bikini for our trip overseas tomorrow.
And of course imagining perfect picnics on gorgeous sandy beaches, swimming in crystal blue waters and sipping cocktails on our veranda as the sun sets on another perfect day....
What? Why are you laughing? I've heard that Wales is lovely at this time of year.
And no - it is not a
just a
caravan
, it's a 'luxury' caravan if you don't mind.
Anyways, I won't be around for Listography this weekend so my lovely friend Penny of
Alexander Residence
is stepping in to host it for me. Don't mind the rather large sock pile and over spilling buckets of toys as you walk in - I hear she's having some issues on the domestic front at the moment.
Look forward to seeing all your lovely entries when I get back.
Let's hope the sunburn won't be too bad.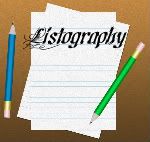 "/>